Explore Exciting Outdoor Vacation Packages: Unwind in Nature's Beauty
Introduction: The Allure of Outdoor Vacation Packages
Savor the fresh air and unspoiled landscapes as you embark on the journey of a lifetime with luxury outdoor vacation packages. For the discerning traveler, these packages present an exquisite fusion of adventure and indulgence, allowing you to immerse yourself in nature's grandeur while enjoying unparalleled luxury. From majestic peaks to azure seas, from lush forests to expansive deserts, the world is an endless playground waiting to be explored. These outdoor vacation packages are meticulously crafted to cater to your specific preferences, ensuring a highly personalized and immersive travel experience. Whether you're seeking adrenaline-pumping adventures or serene escapes, these packages provide the perfect balance of thrill and tranquility, transforming your vacation into an unforgettable adventure. Your pursuit of luxury and adventure begins here. The allure of outdoor vacation packages lies not just in the unique experiences they offer, but also in their ability to transport you to a world of unrivaled natural beauty, where you can unwind and rejuvenate in the lap of luxury.
The Rise of Luxury Outdoor Vacation Packages
Luxury and adventure often seem like two opposing concepts, but in the world of travel, they have merged beautifully to create a unique niche of luxury outdoor vacation packages. These trips are designed for those who seek the thrill of adventure without compromising on comfort, exclusivity, and opulence. This trend is sweeping the travel industry, and two companies leading the pack are REI and evoTrip.
The Shift from REI Adventures to Domestic Trips
REI Adventures was once a popular choice for international adventure trips. However, on March 24, 2021, they announced a major shift in their travel offerings. The company decided to close its international branches of the Adventure programs after a final trip abroad in May 2021. The reason behind this was an intentional decision to focus on travel experiences in iconic, domestic destinations and notable outdoor locations in the United States.
REI believes that by staying closer to home, it can offer more outdoor experiences to more people. And despite not conducting international trips any longer, the company ensures that it provides full refunds to travelers who had booked in advance, and allows international vendors to keep any equipment they had been using to support REI adventures abroad. This new focus on domestic trips has allowed REI to cater to the rising demand for luxury outdoor vacation packages within the country, offering unique and exciting experiences right at home.
The Emergence of evoTrip and its Adventure Vacations
On the other hand, evoTrip has carved a niche for itself in the realm of luxury outdoor vacation packages. evoTrip adventure vacations are more than just an opportunity to travel to remote places. They offer you a chance to explore untouched snow fields, endless waves, hidden trails, or open water.
These adventures are about pushing your limits, immersing yourself in the raw beauty of nature, and enjoying the thrill of outdoor activities, all while enjoying the comfort and luxury that evoTrip provides. Their adventure vacations are designed to offer unique and personalized experiences that cater to the tastes and preferences of luxury travel enthusiasts.
Whether it is skiing down pristine slopes, exploring hidden trails, or diving into open water, evoTrip ensures that each adventure is packaged with luxurious accommodations and top-notch services. This makes them a perfect choice for those who seek a blend of adventure and luxury in their travel experiences.
The rise of luxury outdoor vacation packages with companies like REI and evoTrip at the helm, has indeed revolutionized the way we perceive adventure travel. Now, you don't have to choose between comfort and thrill, you can have it all. In the next section, we will delve into some top luxurious outdoor vacation packages that you can consider for your next thrilling yet comfortable adventure.
Top Luxurious Outdoor Vacation Packages
Luxury and adventure are no longer mutually exclusive. The rise of luxury outdoor vacation packages have made it possible for travelers to experience the thrill of the wild while indulging in the comfort of the plush. Here are some of the top luxurious outdoor vacation packages that offer an unparalleled blend of opulence and adrenaline.
Paragliding in Umbria: A Sky-High Luxury Experience
Umbria, Italy's green heart, offers more than just rolling hills and exquisite wines. The town of Castelluccio is a paraglider's dream. Experience the thrill of gliding over the stunning Piano Grande valley, home to a vibrant array of flowers that bloom every spring. With Fly the Appenines, you can enjoy a 20-minute tandem glide from the towering Monte Vettore, or if you crave more, sign up for a 90-minute cross-country flight. This is an experience that marries the thrill of soaring in the sky with the luxury of breathtaking views.
Heli-Skiing in the Alps: A Thrilling Adventure in Luxury
The Alps, world-renowned for their skiing, also offer an exclusive adventure for those seeking seclusion – heli-skiing. Imagine being dropped by a helicopter into the untouched powder of Val Formazza, surrounded by majestic peaks like Ofenhorn, Blinnenhorn, and Basòdino. With Heli-Guides.com, not only do you get access to the unspoiled backcountry, but you can also customize the trip to match your skiing ability. From easy day trips to full-week packages, this adventure creates a perfect blend of luxury and thrill.
Shark Diving in South Australia: An Exquisite Underwater Journey
For marine enthusiasts, shark diving in South Australia is an adventure not to be missed. The Neptune Islands, home to Australia's largest colony of long-nose fur seals, also attract their top predator – the great white shark. With Adventure Bay Charters, you can safely observe these majestic creatures from a steel cage or an "aqua sub". The thrill of being mere inches away from the 19-foot-long beasts combined with the comfort of safety measures ensures an unforgettable underwater experience.
Hut-to-Hut Hiking in Colorado: A Luxurious Trek in the Wild
Hiking in Colorado offers a unique blend of luxury and wilderness. The state's hut-to-hut system allows hikers to traverse the rugged landscape during the day while enjoying comfortable accommodations at night. This experience combines the thrill of hiking in the wild with the comfort of resting in a cozy hut at the end of the day.
Seeing Red-Hot Lava in Hawaii: A Lavish Encounter with Nature
Hawaii is not just about serene beaches and lush landscapes. The island also offers an exhilarating encounter with nature – watching red-hot lava at Hawaii Volcanoes National Park. This thrilling experience, combined with luxurious accommodation options, makes for an unforgettable vacation.
Snorkeling in Belize: A Luxurious Dive into the Caribbean Sea
Belize offers a unique blend of luxury and underwater adventure. The reef system here is a snorkeler's paradise, teeming with vibrant marine life. With luxurious resorts offering guided snorkeling tours, you can enjoy the thrill of exploring the underwater world while basking in the comfort and luxury of your stay.
These luxurious outdoor vacation packages offer a perfect mix of adrenaline, comfort, and exclusivity, catering to the discerning travel enthusiast's need for both thrill and opulence. Whether it's flying high above the Italian landscape, diving with sharks, or hiking through the Colorado wilderness, these packages ensure you enjoy an unforgettable adventure without compromising on luxury.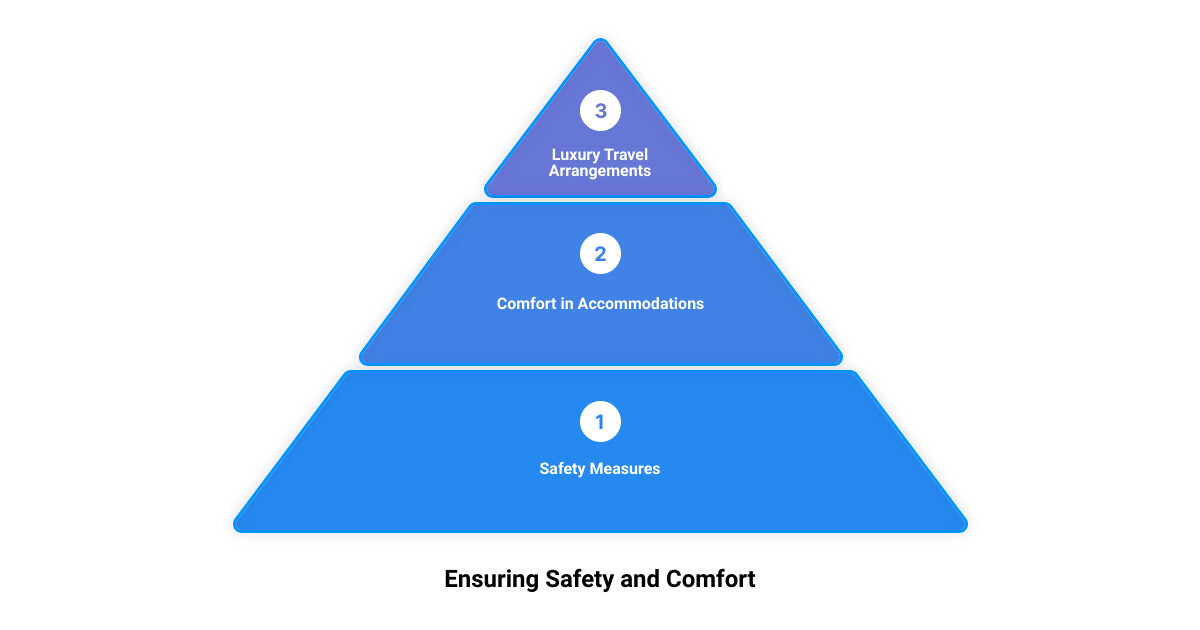 Ensuring Safety and Comfort in Luxury Outdoor Vacation Packages
Your heart races as you prepare for an exhilarating adventure, but your mind is at ease, knowing that every aspect of your journey has been meticulously planned and executed with your safety and comfort in mind. In any luxury outdoor vacation package, two key components ensure a stress-free and truly enjoyable experience: comprehensive safety measures and exquisite accommodations.
Safety Measures in Place for Each Activity
When it comes to outdoor adventures, safety is not only paramount, it forms the very foundation of an enjoyable experience. All the outdoor vacation packages highlighted prioritize safety, ensuring you can push your boundaries without unnecessary risk. From shark diving in South Australia to paragliding in Umbria, each activity is carried out under the watchful eyes of highly trained professionals. Their expertise is complemented by the latest safety gear, so you can focus on the thrill of your adventure, secure in the knowledge that your safety is well taken care of.
For instance, when staying in private villas like those in Bali, safety measures are specifically tailored to the needs of families with younger children. Childproofing of electrical outlets and provision of safety gates for stairs are just some of the measures in place to ensure that the little ones can explore and enjoy without any worries. Such measures extend to all aspects of your vacation, from the activities you partake in to the accommodations you retire to at the end of the day.
Comfort and Luxury in Accommodations and Travel Arrangements
After an action-packed day, there's nothing like returning to a luxurious, comfortable accommodation that rejuvenates you for the next day's adventure. The lodgings chosen for these packages are often small, locally-owned establishments that provide not only top-notch comfort but also a charming, authentic experience. Whether it's a bamboo hut homestay in Thailand, a traditional teahouse in the Himalayas, or a Maori marae in New Zealand, these accommodations offer a blend of local flavor and luxury.
Moreover, in cases where activities such as multi-day trekking, rafting, or canoeing excursions require camping out, fully supported camping is provided. Tents are set up and taken down for you, meals are freshly prepared, and basic washing facilities are provided, ensuring you can enjoy the great outdoors without sacrificing comfort or convenience.
In conclusion, luxury outdoor vacation packages ensure that your adventurous spirit is well accommodated. With all-encompassing safety measures and top-tier accommodations, these packages provide a seamless blend of thrill, comfort, and luxury. So, go ahead, seize the day, and embark on an adventure that promises not just an adrenaline rush, but also the peace of mind and comfort that come with luxury travel.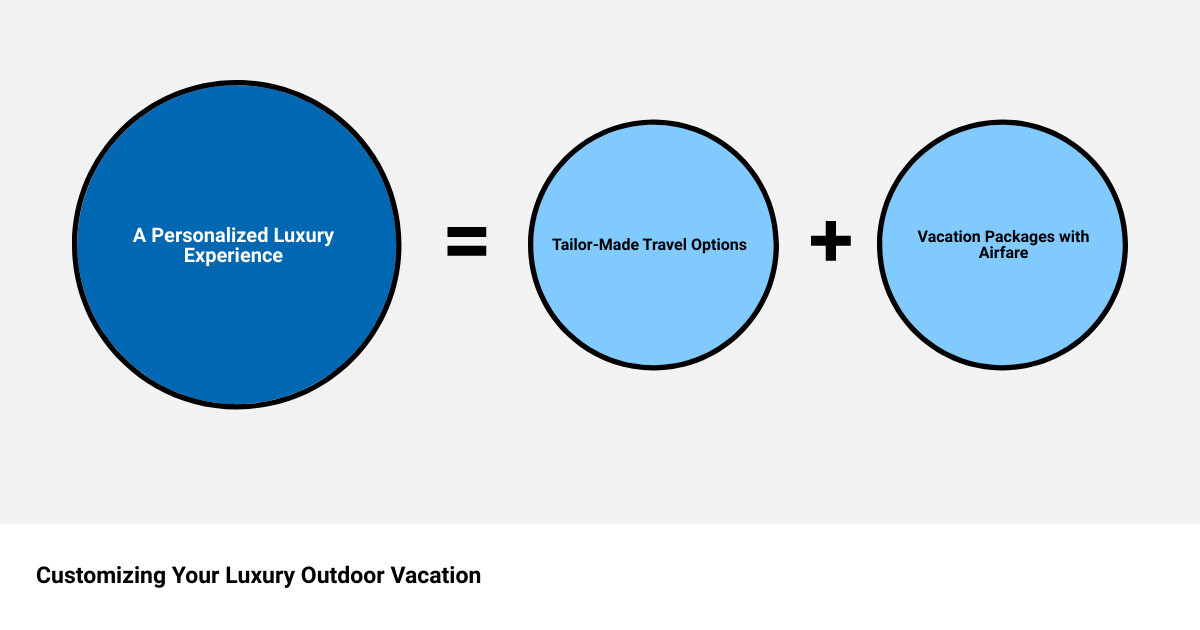 Customizing Your Luxury Outdoor Vacation Package with Goway Travel
Having peace of mind and comfort while embarking on an adrenaline-filled adventure is no longer a farfetched dream. Goway Travel, a seasoned player in the luxury travel industry, offers an array of customization options to make your outdoor vacation a truly personalized and luxurious experience.
Tailor-Made Travel Options for a Personalized Luxury Experience
With Goway Travel, one-size-fits-all is a phrase that doesn't exist. Recognizing that each traveler has unique preferences and interests, Goway offers tailor-made travel options that allow you to craft your own itinerary. Whether you desire a private safari in Tanzania, a self-drive tour in Australia, or a beach escape in Fiji, Goway has a team of experts ready to curate a travel package tailored to your exact specifications. This personalization extends to the level of activity you desire, with options ranging from relaxed beach/island escapes to more active and adventurous experiences like climbing, scuba diving, or cycling.
Vacation Packages with Airfare for a Hassle-Free Luxury Adventure
As a luxury traveler, you understand that time is precious. To help you save valuable hours and reduce stress, Goway offers vacation packages with airfare included. These comprehensive packages handle every detail of your trip, from the moment you leave your doorstep to your return. With flights, accommodations, and activities all expertly arranged, you can focus on what truly matters – immersing yourself in the destination and enjoying your luxurious outdoor adventure.
Active and Adventurous Group Tours for a Luxurious Group Experience
If you're looking to share your adventurous spirit with like-minded individuals, Goway's small group touring option is just for you. These tours limit the number of participants, ensuring a more intimate and luxurious experience. Imagine sailing through Tahiti with a small crew of fellow luxury travelers, or trekking through the majestic valleys of New Zealand's Milford Sound with a select group. These active and adventurous tours not only offer a chance to bond with fellow adventure enthusiasts but also ensure a high level of service and attention to each participant.
Goway Travel offers the perfect solution for luxury travelers seeking a blend of adventure and opulence. With their tailor-made travel options, comprehensive vacation packages, and intimate group tours, you can enjoy a luxurious outdoor vacation that is as unique as you are. Say goodbye to the stress of planning and hello to a hassle-free, personalized luxury adventure.
Conclusion: Embrace the Luxury of Outdoor Vacation Packages
As the sun sets on our exploration of luxury outdoor vacation packages, one thing is clear: the world of travel has evolved significantly. No longer are outdoor adventures confined to the rugged and the rustic. Nowadays, they come elegantly wrapped in the lap of luxury, providing an exquisite blend of excitement and opulence.
These high-end vacation packages offer a taste of the wild, while ensuring every detail exudes luxury. Whether it's paragliding over the scenic landscapes of Umbria, heli-skiing amidst the snow-capped peaks of the Alps, or snorkeling in the clear, turquoise waters of Belize, each experience promises to be memorable, exhilarating and steeped in comfort.
Safety and comfort are paramount in these packages. Each activity is meticulously planned and executed, with safety measures firmly in place. Moreover, the accommodations and travel arrangements are nothing short of luxurious, ensuring your comfort at every step.
The beauty of these outdoor vacation packages lies not just in the luxurious experiences they deliver, but also in the flexibility and customization they offer. With companies like Goway Travel, you can create a tailor-made luxury experience that caters to your personal preferences and interests.
As we conclude our journey, we urge you to break free from the conventional boundaries of luxury travel. Embrace the thrill of adventure, the serenity of nature, and the comfort of luxury with these outdoor vacation packages. They're not just vacations, but unique experiences that provide a deeper understanding of the world around us, wrapped in the warmth of luxury.
So, pack your bags, lace up your adventure boots, and get ready to unwind in nature's beauty with a touch of elegance. The world of luxurious outdoor vacation packages awaits.