Ultimate Luxury Yoga Retreat in Bali: A Haven of Serenity
Introduction: The Allure of Bali as a Luxury Yoga Retreat Destination
Luxury and spirituality harmonize in a symphony of serenity on the mystical island of Bali. As a luxury travel enthusiast, you know the value of an exquisite vacation that caters to your specific tastes and interests. You seek an experience that transcends the bounds of the ordinary. And if that experience includes a journey of wellness and rejuvenation, then a luxury yoga retreat in Bali is your perfect match.
Nicknamed the 'Island of the Gods', Bali is a globally acclaimed destination for yoga retreats, with its lush landscapes and spiritual aura providing an unparalleled backdrop for inner exploration. Its diverse range of yoga retreats caters to all levels, from beginners to advanced yogis, and offers a unique blend of luxury and wellness. From the black sand beaches of the north to the vibrant surf culture of the south, every corner of Bali breathes life into your yoga journey.
Nestled amidst the tranquil rice fields and serene beaches are an array of eco-chic, sustainable yoga resorts that promise a luxurious escape from the humdrum of everyday life. Think sunrise yoga sessions overlooking the spectacular Indian Ocean, personalized yoga flows amidst whispering palm trees, and organic meals cooked fresh in eco-restaurants.
Whether you're immersing yourself in the spiritual hub of Ubud, riding the waves in Canggu, or soaking in the majestic views in Uluwatu, Bali offers a rejuvenating yoga experience like no other. The island's healing properties, combined with the gentle hospitality and rich cultural traditions, breathe wellness into every person who steps onto its shores.
But a luxury yoga retreat in Bali isn't just about yoga. It's about embracing a lifestyle of wellness, deepening your connection with nature, and embarking on a journey of self-discovery and renewal. It's about investing in an experience that not only pampers you with luxury but also nourishes your mind, body, and soul.
In the following sections, we will explore why a luxury yoga retreat in Bali is a worthy investment, what to expect from your retreat, and how to choose the best retreat that aligns with your preferences and interests. So sit back, relax, and let us guide you through your journey to finding the ultimate luxury yoga retreat in Bali.
Why Choose a Luxury Yoga Retreat in Bali?
The Unique Blend of Luxury and Spirituality in Bali
Bali is no ordinary travel destination; it's a tropical paradise that skillfully blends luxury and spirituality. Known as the Island of the Gods, Bali offers a unique cocktail of stunning landscapes, rich culture, and a deep spiritual heritage. The island is dotted with ornate temples, lush rice terraces, and serene beaches, making it an ideal backdrop for a luxury yoga retreat.
Bali has magnetized luxury travel enthusiasts with its impressive array of lavish resorts and villas. These accommodations are not just about opulence; they embody the concept of holistic wellness. With an emphasis on sustainability, they seamlessly merge with the surrounding natural beauty, offering a sanctuary where you can rejuvenate your body and soul.
The Benefits of Yoga Retreats: A Journey of Self-Discovery and Renewal
Choosing a luxury yoga retreat in Bali is about more than just stretching your body. It's an invitation to embark on a journey of self-discovery and renewal. Daily yoga sessions in serene settings allow you to connect with your inner self, fostering a sense of tranquility and mindfulness. Whether you are a seasoned yogi or a beginner, the expert yoga teachers guide you through your practice, helping you deepen your understanding of yoga and its benefits.
Beyond yoga, Bali's retreats offer a range of holistic wellness activities. Imagine meditating to the soothing sounds of the ocean, indulging in nourishing spa treatments, or savoring fresh, locally-sourced meals that delight your taste buds while fueling your body. This comprehensive approach to wellness ensures that you return home not just rested, but with renewed vitality and clarity.
The Worth of Investing in a Luxury Yoga Retreat in Bali
The value of a luxury yoga retreat in Bali extends far beyond the price tag. It's an investment in your well-being, a chance to step away from the hustle and bustle of daily life and reconnect with what truly matters. The personalized attention, deluxe accommodations, fresh meals, and concierge service offered by luxury retreats elevate your experience, ensuring you feel pampered and cared for throughout your stay.
Moreover, the cultural immersion that Bali offers adds an enriching dimension to your retreat. Whether it's participating in a traditional Balinese ceremony, exploring the local art scene, or learning about the island's spiritual practices, these experiences deepen your connection with Bali and its people.
In a world where time is often perceived as a luxury, taking a break to focus on your well-being is priceless. A luxury yoga retreat in Bali is not just a holiday; it's a transformative experience that nourishes your body, mind, and soul.
Top Luxury Yoga Retreats in Bali for 2023
As you prepare to embark on a journey of self-discovery, wellness, and luxury in Bali, here are some of the top yoga retreats you should consider for 2023.
COMO Shambhala Estate: A Wellness Retreat in the Heart of Bali
COMO Shambhala Estate is a wellness retreat nestled in the heart of Bali. It offers an unmatched level of luxury and serenity, offering personalized programs that combine physical activity, healthy eating, and holistic therapies. Its yoga retreats are renowned for their bespoke approach, allowing each participant to experience a transformative journey tailored to their needs.
Fivelements Retreat Bali: A Sanctuary for Holistic Healing
Fivelements Retreat Bali is an award-winning eco-conscious wellness retreat. Known for its signature retreats that blend yoga, meditation, healing spa therapies, and plant-based cuisine, Fivelements offers a serene sanctuary for holistic healing. Its lush, tranquil setting and luxurious amenities make it a top choice for those seeking a luxury yoga retreat.
Zen Resort Bali: A Luxurious Escape in the Lap of Nature
Nestled amidst serene rice fields and overlooking the sea, Zen Resort Bali offers a tranquil escape for yoga enthusiasts. The resort's yoga retreats combine traditional Balinese healing, yoga, meditation, and a range of wellness therapies, all set in luxurious accommodations that embody the tranquility of Bali.
Bagus Jati: A Wellness Resort Amidst the Hills of Ubud
Bagus Jati is a wellness resort tucked away in the hills of Ubud. Known for its stunning setting and wellness packages, Bagus Jati offers yoga retreats that fuse physical activity, nutritious cuisine, and spa treatments, providing a holistic wellness experience in the midst of nature.
The Yoga Barn: A Popular Retreat for Yoga Enthusiasts
The Yoga Barn in Ubud is a favorite amongst yoga enthusiasts worldwide. It offers a wide range of retreats, classes, and workshops all year round. From beginners to advanced practitioners, The Yoga Barn offers something for everyone, making it a must-visit destination for a luxurious yoga retreat.
Desa Seni Yoga Retreat: A Traditional Balinese Experience
Desa Seni Yoga Retreat offers a unique, traditional Balinese yoga experience. With its private yoga sessions, therapeutic spa treatments, and organic meals, Desa Seni provides a luxurious and personalized yoga retreat experience.
Sukhavati Ayurvedic Retreat: A Blend of Yoga and Ayurveda
For those looking to combine yoga with Ayurvedic healing, Sukhavati Ayurvedic Retreat is an ideal choice. Offering a holistic approach to wellness, Sukhavati combines yoga classes, Ayurvedic treatments, and nutritious meals to promote health and well-being.
Oneworld Retreats Bali: A Retreat for the Mind, Body, and Soul
Oneworld Retreats Bali offers a variety of yoga retreats that cater to different levels of experience and focus areas. Whether you're looking for a retreat to deepen your yoga practice, explore meditation, or simply unwind and relax, Oneworld Retreats has a program to suit your needs.
Each of these retreats offers a unique and luxurious experience, embodying the spirit of Bali and the transformative power of yoga. Let 2023 be the year you immerse yourself in the ultimate luxury yoga retreat in Bali.
What to Expect from a Luxury Yoga Retreat in Bali?
Every moment at a luxury yoga retreat in Bali is designed to take you on a transformative journey, offering a unique blend of wellness, relaxation, and indulgence. From customized yoga classes to wellness treatments, expect nothing less than a haven of serenity and luxury.
Customized Yoga Sessions Tailored to Your Needs
Start your day with a sunrise yoga session overlooking the tranquil blue waters of Bali. Whether you're drawn to the gentle flow of Hatha yoga or the dynamic sequences of Vinyasa, your yoga retreat will offer classes that fit your preferences and skill level. Experience a harmonious union between mind, body, and nature as you deepen your yoga practice in a breathtaking studio, guided by lovely and experienced yoga teachers.
Immersion in Balinese Culture and Traditions
Luxury yoga retreats in Bali are not just about yoga and relaxation, but also about cultural immersion. Retreats often include excursions to cultural, natural, and tourist attractions, allowing you to explore and experience the rich Balinese culture. Stay in traditional Balinese bungalows, live the local way of life, and immerse yourself in the authentic Balinese culture.
Luxurious Accommodations and World-Class Facilities
When it comes to accommodations, expect nothing less than superior luxury. Your retreat will provide deluxe accommodations with wonderful amenities. Many luxury holidays come with private villas, beach views or lakefront properties, and top-notch concierge service. No matter whether you choose a traditional bungalow or a luxury resort, you will feel pampered with world-class facilities and services.
Wellness Treatments and Spa Services for Ultimate Relaxation
Imagine the relaxation you'll feel with a soothing massage as the soft strums of music play in the background. Luxury yoga retreats in Bali offer a variety of spa and wellness treatments that will put your body and mind into a deep state of relaxation. From traditional Balinese massage to Ayurvedic treatments, these services are sure to leave you feeling rejuvenated and revitalized.
Organic and Nutritious Meals for a Healthy Lifestyle
Luxury yoga retreats in Bali place a strong emphasis on healthy living. You'll sit down to meals full of fresh, local fruits and veggies, or delicious vegetarian meals that will make your body hum with delight. All meals are carefully crafted, ensuring they are fresh, healthy, and well presented. Many retreats even offer detox menus, ensuring a diet that complements your wellness journey.
Your luxury yoga retreat in Bali will be a perfect blend of relaxation, wellness, and indulgence. It's not just a holiday; it's a journey towards a healthier, happier you.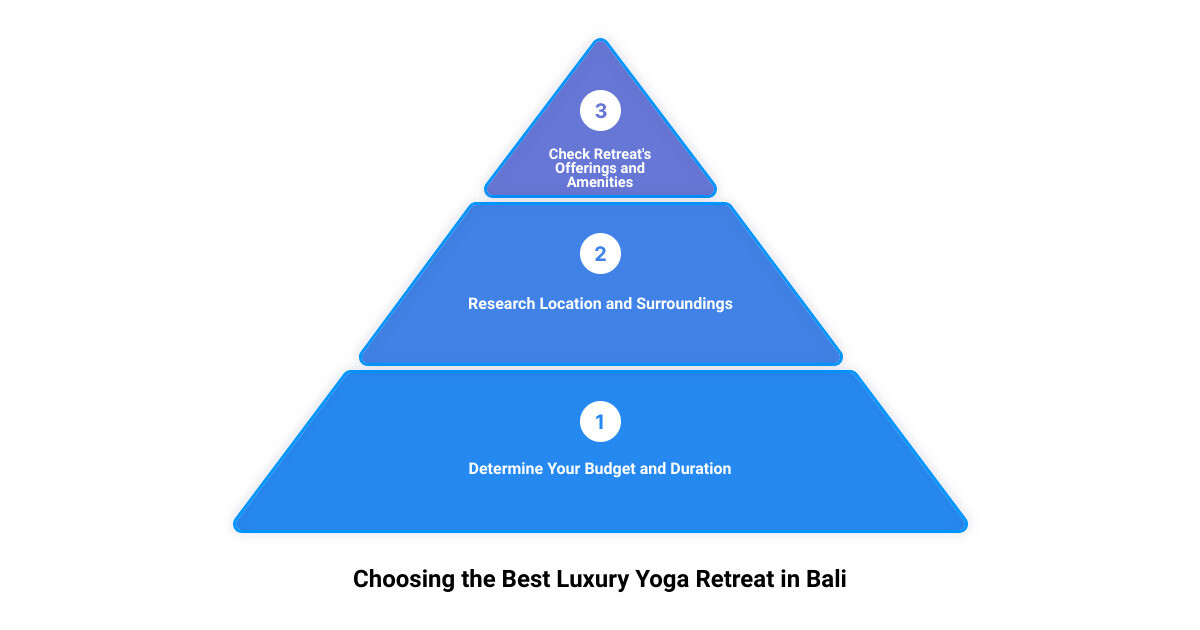 How to Choose the Best Luxury Yoga Retreat in Bali?
Choosing the perfect luxury yoga retreat in Bali can be as rejuvenating as the retreat itself when you know what to look for. Let's break down the essential factors to consider, ensuring your choice is a perfect fit for your needs and desires.
Consider Your Yoga Experience and Skill Level
Firstly, reflect on your current yoga experience and skill level. Bali is a paradise for yoga enthusiasts of all levels, hosting retreats that cater to beginners, intermediates, and advanced practitioners alike. As a beginner, you might prefer a retreat that offers beginner-friendly programs and gentle guidance. Experienced yogis might seek advanced training or specialized forms of yoga such as hatha, vinyasa, or kundalini yoga. Whatever your level, ensure the retreat you select aligns with your skill level and provides appropriate support and instruction.
Determine Your Budget for the Retreat
Next, consider your budget. Luxury yoga retreats in Bali span a wide price range, from more affordable luxury to ultra-luxurious experiences. The cost typically includes accommodations, meals, and yoga sessions, but extras like spa services, private classes, or excursions might be additional. Whether you're looking to splurge on a high-end retreat or seeking affordable luxury, there's a retreat in Bali to suit your budget.
Decide on the Duration of Your Retreat
The duration of your retreat is another significant factor. Retreats can range from a few days to several weeks. Shorter retreats might offer a quick reset, while longer stays allow for a deeper immersion into the practice of yoga and the Balinese culture. Your choice would depend on your availability and the depth of experience you seek.
Research the Location and Surroundings of the Retreat
The location and surroundings of the retreat can greatly enhance your experience. Bali is known for its beautiful natural landscapes, from serene beaches to lush jungles and tranquil rice fields. Some retreats are located in bustling areas like Seminyak or Ubud, while others offer a more secluded setting. Consider what type of environment would best support your retreat experience, whether it's the vibrant energy of a city, the serene beauty of the countryside, or the calming rhythm of the ocean waves.
Check the Retreat's Offerings and Amenities
Lastly, delve into the retreat's offerings and amenities. These can include anything from spa and wellness treatments, cultural excursions, airport pickups, and dietary preferences. Some retreats may even offer unique features like traditional Balinese bungalows or luxury resorts for accommodations. Remember, a luxury yoga retreat is more than just yoga classes; it's a holistic experience that combines wellness, relaxation, and cultural immersion.
By carefully considering these factors, you can select a luxury yoga retreat in Bali that not only meets but exceeds your expectations, offering you a transformative journey of luxury, wellness, and spiritual growth.
Conclusion: Embark on a Luxurious Yoga Journey in Bali
As the sun sets on our exploration of luxury yoga retreats in Bali, we come full circle to the realization that Bali, the Island of the Gods, isn't just a destination, it's a state of mind. The fusion of spiritual serenity and opulent luxury creates a unique ambiance that offers much more than just yoga classes; it's a holistic experience that combines wellness, relaxation, and cultural immersion.
Whether you're a seasoned yogi or a beginner eager to dive into the world of yoga, Bali has something exceptional to offer. From the verdant rainforests of Ubud to the pristine beaches of Uluwatu, each location offers a unique backdrop to your yoga journey. The island's luxury retreats, such as Bagus Jati, Fivelements Retreat, and Sukhavati Ayurvedic Retreat, have mastered the art of blending traditional Balinese culture and modern luxury to provide an unparalleled yoga experience.
By investing in a luxury yoga retreat in Bali, you're not just purchasing a vacation, you're investing in a transformative experience that will rejuvenate your mind, body, and soul. The retreats we explored offer personalized yoga sessions, luxurious accommodations, world-class facilities, wellness treatments, and nutritious meals. All of these elements work together to create an environment conducive to relaxation and self-discovery.
Choosing the right retreat can seem daunting with so many fantastic options available. However, by considering your yoga experience, budget, desired retreat duration, location preferences, and the offerings and amenities of the retreat, you can find the perfect fit that not only meets but exceeds your expectations.
As a luxury travel enthusiast, you seek the best, and Bali delivers it in spades. Whether it's the tranquillity of the rice fields, the spiritual energy of the temples, or the hospitality of the Balinese people, Bali has a way of leaving an indelible imprint on your soul, inviting you to return time and again.
So, why wait? Start planning your luxurious yoga journey in Bali today and experience firsthand the blend of opulence and tranquillity that this unique island paradise has to offer. Remember, Bali isn't just a destination; it's a journey of self-discovery, wellness, and unparalleled luxury.