How to Book Your Dream Luxury Vacation Online with Ease
Welcome to the future of luxury travel booking, where world-class experiences are just a click away. The digital age has transformed the way we plan and book our vacations. It's no longer about flipping through glossy brochures or relying on travel agents for recommendations. Instead, we're empowered to design our own dream getaways, complete with five-star accommodations, exclusive experiences, and personalized services. The luxury travel enthusiast who values opulence and exclusivity in their travel experiences can now easily book a luxury vacation online with ease.
In this article, we will guide you on how to book your dream luxury vacation online. We will delve into what constitutes a luxury vacation, share tips on saving money on luxury travel, uncover the process of online booking, highlight top luxury hotels, and reveal special deals and packages for luxury travel. Whether you're planning a luxurious getaway to the French Riviera or an opulent safari adventure in South Africa, our guide will equip you with the tools and knowledge to turn your dream vacation into a reality. So, sit back, relax, and let us navigate the world of luxury travel booking for you.
Understanding What Constitutes a Luxury Vacation
As you dream of your next opulent getaway, it's crucial to understand the elements that make up a luxury vacation. Not all vacations are created equal, and luxury travel goes beyond just a high price tag. It's about exclusive, personalized experiences that elevate your journey from ordinary to extraordinary.
Defining Luxury Travel: Exclusive and Unique Experiences
The essence of luxury travel lies in its exclusivity and uniqueness. A luxury vacation is one that offers experiences not readily available to the average traveler. Imagine embarking on a private helicopter tour over the breathtaking landscapes of New Zealand, dining in world-renowned restaurants, or indulging in a spa treatment upon arrival. In essence, it's about immersing yourself in experiences that create lasting memories, setting your vacation apart from standard trips.
The Importance of Personalized Services in Luxury Travel
A key component of luxury travel is the level of personalized service that anticipates and caters to your every need. From your own honeymoon specialist who curates the ideal romantic getaway to upgrades, breakfast, and spa credits that enhance your stay, luxury travel is about making you feel valued and pampered. Companies like Advise Honor excel at providing such services, ensuring each travel package is tailored to the individual preferences and interests of their clients, creating an unforgettable experience that is as unique as you are.
The Role of Destination and On-Site Services in Luxury Travel
When booking a luxury vacation, the choice of destination plays a significant role. High-level travelers often choose the destination first, followed by on-site services. This could include exclusive boutique hotels or international resorts, each providing a different flavor of luxury. Whether it's soaking in the subtropical climate of New Zealand's North Island or experiencing the lush landscapes of Vietnam and Cambodia, the right destination can elevate your luxury vacation to new heights.
Additionally, on-site services like private tours, gala evenings, and first-class cuisine further enhance the luxury experience. After all, it's not just about where you go, but also about what you do and how you live during your vacation. These services allow you to immerse yourself fully in your chosen destination and experience the pinnacle of luxury travel.
Remember, a luxury vacation is more than just a getaway—it's a journey that creates lasting memories, defined by exclusivity, personalized services, and exquisite destinations.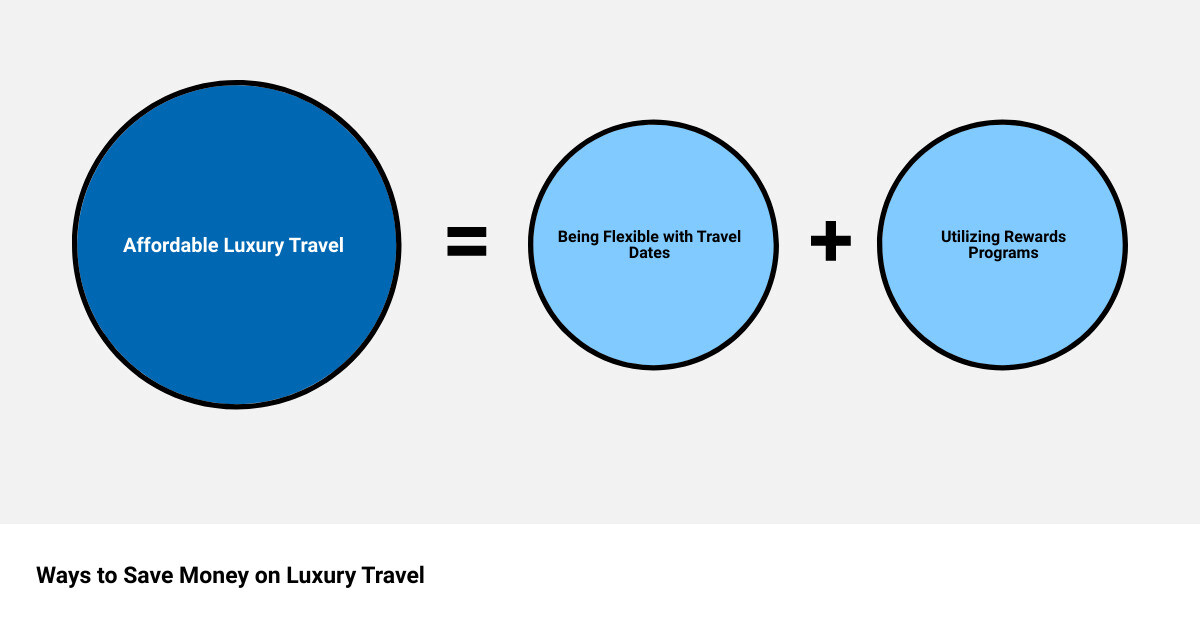 How to Save Money on Luxury Travel
Luxury travel doesn't always have to burn a hole in your pocket. There are smart strategies to make your dream luxury vacation more accessible without compromising on the sense of opulence and bespoke experiences. Let's delve into these cost-saving strategies.
The Advantage of Being Flexible with Your Travel Dates
The key to saving on luxury travel is flexibility. Being flexible with your travel dates can open up a world of savings. Luxury hotels and resorts often have fluctuating rates based on the time of year and the day of the week. By avoiding peak seasons and high-occupancy dates, you can score some fantastic deals on luxury accommodations.
Utilizing Points and Rewards Programs for Luxury Travel
Leverage points and rewards programs to your advantage. Many luxury hotels, airlines, and credit cards offer rewards programs that allow you to accumulate points for each dollar spent. These points can then be redeemed for free nights, flight upgrades, or other luxury travel experiences.
The Benefits of Booking in Advance
Booking in advance is another effective way to secure great deals on luxury travel. Luxury hotels often offer early-bird discounts to incentivize advance bookings. By planning ahead and confirming your reservation well in advance, you can enjoy significant savings on your luxury vacation.
Considering Alternative Accommodations for Luxury Travel
Don't limit yourself to traditional hotels. Considering alternative accommodations such as luxury villas, boutique hotels, or serviced apartments can often provide a unique and personalized luxury experience at a lower cost.
Researching Deals and Packages for Luxury Travel
Take the time to research deals and packages. Many luxury travel companies and online booking platforms offer special deals, discounts, and packages that include accommodations, dining, and experiences at a bundled rate. These packages often represent great value for money, providing a complete luxury experience at a discounted rate.
Making the Most of Complimentary Amenities in Luxury Hotels
Maximize your luxury travel experience by making the most of complimentary amenities offered by luxury hotels. These can include things like free breakfast, wellness facilities, shuttle services, and even cultural experiences. Utilizing these complimentary services can enhance your luxury travel experience without adding extra costs.
The Value of Splurging on One Luxury Experience
Lastly, consider splurging on one luxury experience. Whether it's a private yacht cruise, a Michelin-starred dinner, or a hot-air balloon ride over a picturesque landscape, that one unforgettable experience can make your luxury vacation truly unique and memorable without breaking the bank.
By adopting these cost-saving strategies, you can experience the opulence and exclusivity of luxury travel without the hefty price tag.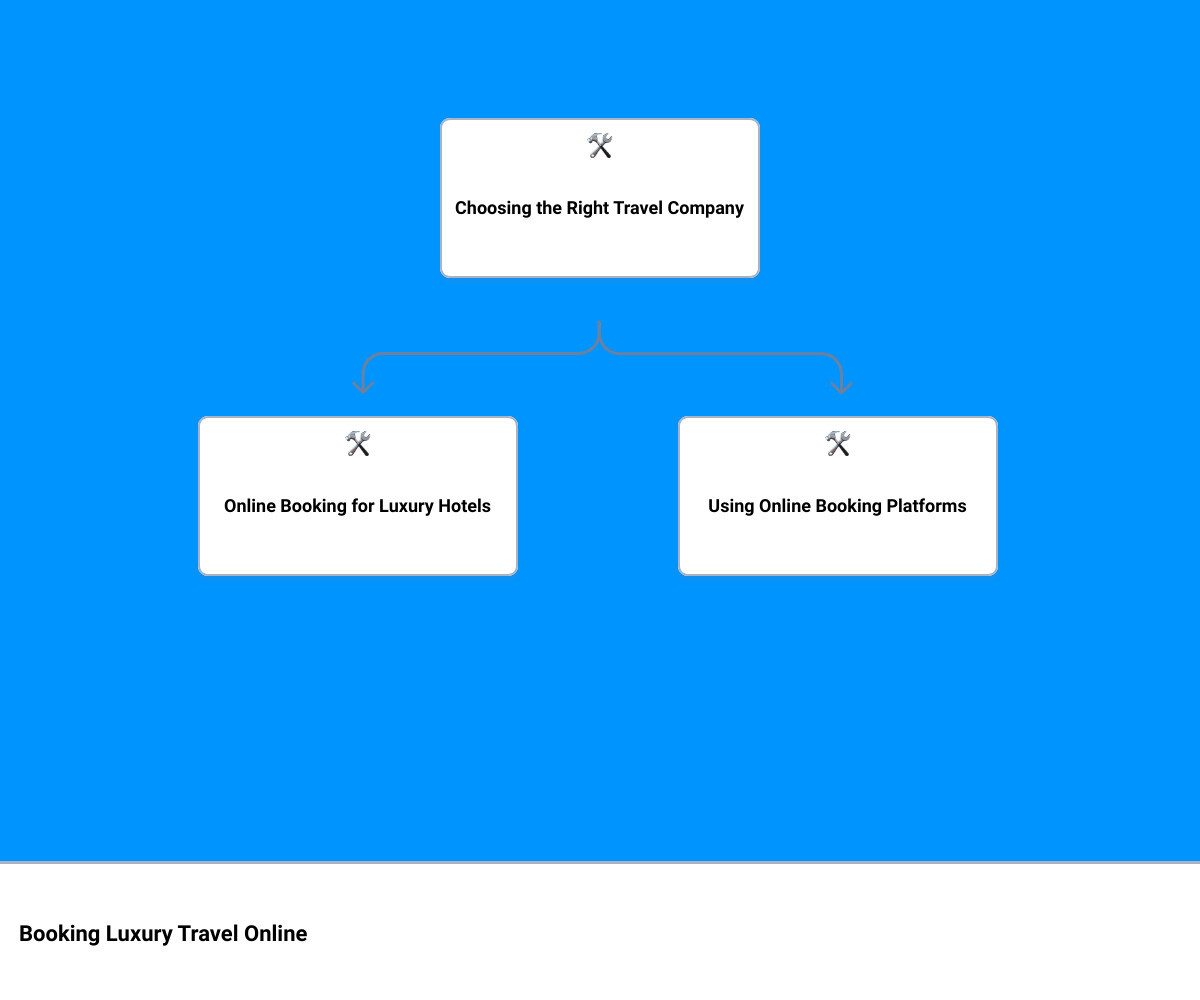 The Process of Booking Your Luxury Vacation Online
As we transition from merely dreaming about luxury travel to manifesting it into reality, knowing how to deftly navigate the online booking process is crucial. Whether it's a lavish resort in the Maldives or a charming villa in the heart of Tuscany, booking your dream luxury vacation online has never been easier, provided you know where to look and how to leverage the tools at your disposal.
Choosing the Right Luxury Travel Company: The Role of Inspirato and Virtuoso
Your choice of luxury travel company can make or break your vacation experience. Companies like Inspirato and Virtuoso are renowned for their ability to curate first-class vacations replete with luxury accommodations. Inspirato, a luxury destination club, offers ease of access to luxury accommodations without the need for you to scour vacation rental sites. Virtuoso, on the other hand, provides benefits like free breakfast, room upgrades, early check-in, and late checkout at the same price as the best available flexible rate. This makes them a no-brainer choice for luxury travel booking.
The Importance of Online Booking for Luxury Hotels
Booking your luxury accommodations online simplifies the process and gives you the power to choose the perfect fit for your opulent getaway. With online booking, you can easily compare hotels, gain insights from reviews, and make an informed decision. Moreover, most luxury hotels offer exclusive deals and packages for online bookings, further enhancing your luxury travel experience.
How to Use Online Booking Platforms for Luxury Travel
Online booking platforms like AdviseHonor offer a seamless user experience and a vast selection of luxury hotels and resorts worldwide. These platforms allow you to customize your search according to your preferences, ensuring you find the perfect accommodation for your luxury vacation. From a beach resort in Mexico to a private villa in Bali, the options are endless when booking online.
The Role of Luxury Travel Agencies in Online Booking
While online booking platforms are incredibly useful, partnering with a luxury travel agency can take your vacation to the next level. Luxury travel agencies, such as AdviseHonor, ensure unparalleled lavish experiences with their meticulous attention to detail. They anticipate your needs, offer personalized itineraries, and plan every aspect of your trip, ensuring a seamless journey from start to finish.
In conclusion, the process of booking your luxury vacation online is straightforward and efficient. With careful selection of your travel company, strategic use of online booking platforms, and partnership with a luxury travel agency, your dream vacation can easily become a reality.
Highlighting Top Luxury Hotels and Experiences
Venture into the world of luxury and indulge in the opulence offered by the world's most prestigious hotels. These properties combine exclusivity, personalized service, and a unique blend of features to create unforgettable experiences.
Experience a new level of luxury at the Ritz-Carlton Maldives Fari Islands. Embrace the island life with stunning beachfront views, exclusive service, and world-class amenities. It's a true haven for luxury travel enthusiasts seeking a tropical retreat.
Four Seasons Hotel at The Surf Club Surfside Florida: Luxury Redefined
Four Seasons Hotel at The Surf Club Surfside Florida is a symbol of Miami's rich history. It boasts an extensive selection of champagnes, making it a winner of the Virtuoso Best Bar Award. This hotel redefines luxury with its elegant architecture, sophisticated interior, and exceptional service.
Four Seasons Maldives at Landaa Giraavaru: A Tropical Paradise
Discover the charm of overwater bungalows at Four Seasons Maldives at Landaa Giraavaru. This tropical paradise offers new Maldives Landaa Giraavaru Water Villas, allowing guests to immerse themselves in the stunning marine environment while enjoying ultimate comfort.
Baccarat Hotel New York: The Epitome of Luxury
In the heart of New York, Baccarat Hotel stands as a symbol of sophistication. The hotel's glamorous salon and its prime location across the street from The Museum of Modern Art offer a unique blend of culture, art, and luxury.
Sofitel Metropole Hanoi: A Blend of History and Luxury
Sofitel Metropole Hanoi offers a blend of colonial-era charm and modern luxury. Known as Hanoi's premier address, it features the iconic La Terrasse Du Metropole Bar, allowing guests to sip cocktails while soaking in the city's vibrant atmosphere.
The New York EDITION: A Modern Luxury Experience
For a modern luxury experience, consider The New York EDITION. With its stylish Gold Bar, which won the Virtuoso Best Bar award, this hotel offers an exquisite blend of style, luxury, and comfort in the heart of New York.
The Lowell: Classic Luxury in the Heart of New York
The Lowell offers an intimate luxury experience on New York's upper east side. With its elegant lobby and personalized service, it provides a serene oasis amidst the city's hustle and bustle.
The Peninsula Paris: French Luxury at Its Finest
After a six-year restoration, The Peninsula Paris is now ready to welcome guests seeking French luxury at its finest. This hotel offers a new inspiration in the City of Light, combining traditional charm with modern amenities.
Each of these hotels offers a unique luxury experience, ensuring that your vacation will be unforgettable. Booking your dream luxury vacation online has never been easier. So why wait? Start planning your dream luxury vacation today.
Special Deals and Packages for Luxury Travel
Luxury doesn't always have to mean extravagant costs. When booking your dream vacation, it's essential to be aware of the exclusive deals and packages that can enhance your luxury travel experience. From free nights to added amenities, these packages can make your vacation even more memorable.
Virtuoso 3rd Night Free Promotion at Corinthia London
Experience the grandeur of London with the Virtuoso 3rd Night Free Promotion at the Corinthia London. This special offer, valid for travel through April 30, 2023, allows you to extend your stay in the heart of the city without any extra cost. With its prime location and luxury services, Corinthia London is the perfect base to explore the city's iconic landmarks and hidden gems. The more days you have, the more of London's luxury you can savor.
Experience More Promotion at Four Seasons Maui at Wailea
If an exotic island getaway is more your style, consider the Experience More Promotion at the Four Seasons Maui at Wailea. This promotion, valid until December 31, 2023, offers guests additional resort credit which can be used towards a variety of on-site services. This could be your chance to indulge in that spa treatment you've been dreaming about, enjoy a candlelit dinner at one of the resort's gourmet restaurants, or partake in unique cultural activities. The Four Seasons Maui at Wailea lets you experience more of the best that Hawaii has to offer.
Virtuoso Stay Four Longer 4th Night Free Promotion at The Maybourne Beverly Hills
Finally, if you're planning to indulge in the glitz and glamour of Beverly Hills, don't miss the Virtuoso Stay Four Longer 4th Night Free Promotion at The Maybourne Beverly Hills. This offer, valid for travel through April 30, 2024, gifts you an extra night of luxury when you book a three-night stay. With an extra day, you'll have more time to bask in the hotel's renowned luxury, explore the legendary Rodeo Drive, or simply unwind by the rooftop pool overlooking the city.
These special packages and promotions provide luxury travelers with an opportunity to enhance their vacation experience. So when planning your next dream getaway, remember to explore these special offers. They might just add that extra touch of luxury that takes your vacation from great to unforgettable.
Conclusion: Embarking on Your Luxury Travel Journey
In the realm of luxury travel, the world is truly your oyster. As we've navigated through the process of booking your dream luxury vacation online, we've explored the importance of personalized services and exclusive experiences, the benefits of being savvy with your booking strategies, and the allure of the world's most exquisite destinations. The key lies in the fine balance of meticulous planning, utilizing expert advice, and savoring the thrill of anticipation that comes with crafting your perfect getaway.
Luxury travel is more than just an opulent hotel stay or a first-class flight. It's about immersing yourself in the unique charm of each destination, from the serene beauty of Miavana By Time + Tide in Madagascar to the adventurous spirit of Four Seasons Tented Camp Golden Triangle in Thailand. It's about those life-enhancing experiences, the ones that make your journey truly unforgettable.
Companies like Advise Honor provide immense value in this arena, offering a range of customized travel packages tailored to your specific interests and preferences. Their meticulous attention to detail and commitment to ensuring unparalleled lavish experiences is what sets them apart. With their help, you can bring your vision of a perfect luxury vacation to life, from an Exotic Asia Voyage with Regent Seven Seas to a Ski Vacation In The French Alps With Childcare Services.
As you embark on your journey to book your luxury vacation online, remember to make the most of your resources. Use points and rewards programs, be flexible with your travel dates, research deals and packages, and consider alternative accommodations. And, of course, don't forget to take advantage of complimentary amenities and splurge on at least one luxury experience.
In the end, your luxury travel journey is about creating lasting memories and extraordinary experiences. It's about discovering the pinnacle of luxury travel, experiencing the epitome of opulence, and above all, ensuring that your vacation is as unique as you are.
Whether you're dreaming of the twinkling lights of Hôtel Plaza Athénée in Paris, the underwater restaurant in Conrad Maldives Rangali Island, or the royal grandeur of Royal Mansour Marrakech in Morocco, remember that the journey to book your dream luxury vacation online is just the beginning. The real adventure awaits when you step foot into those exquisite destinations.
So go ahead, start planning your next luxury vacation. With the right approach and a dash of anticipation, you're well on your way to experiencing the ultimate in luxury travel. After all, you deserve nothing less than the best.