Explore the Best Luxury Travel Packages for Your Next Exquisite Vacation
Explore the Best Luxury Travel Packages.Immerse yourself in the world of luxury, where every whim is catered to, every comfort is provided, and every moment is curated to perfection. Welcome to the realm of luxury travel packages, where the discerning traveler can experience the epitome of elegance and opulence. The allure of these premium vacation packages lies in their ability to deliver unparalleled experiences in some of the world's most breathtaking destinations. From the crystal-clear waters of the Bahamas to the enchanting landscapes of Norway, these luxury travel packages are designed to satiate the most refined tastes.
These packages are more than just vacations; they are a ticket to a world of exclusivity, where every detail is meticulously planned to ensure an exquisite holiday experience. Whether you're looking to indulge in cultural experiences in Italy or seeking adventure in the rugged terrains of Argentina, luxury travel packages offer something for every kind of luxury enthusiast.
In this article, we'll take you on a journey through the best luxury travel packages, explore the benefits of opting for such packages, and provide tips on how to enjoy luxury travel without breaking the bank. So, sit back, relax, and let us guide you to your next exquisite vacation.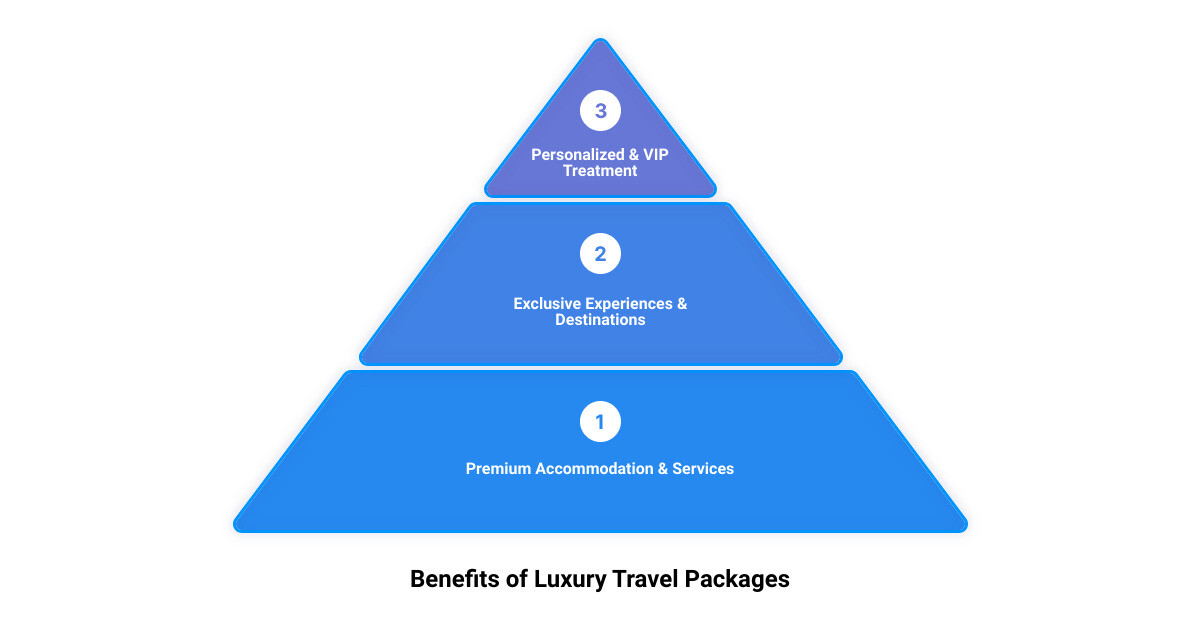 The Definition and Benefits of Luxury Travel Packages
Let's start our exploration by understanding what exactly constitutes a luxury travel package and why you should consider one for your next vacation.
What is a Luxury Travel Package?
A luxury travel package is a carefully curated travel itinerary designed to provide travelers with a high-end, opulent experience. It typically includes premium accommodations at luxury hotels or resorts, first-class or business-class flights, private transfers, and personalized experiences. These packages often offer unique experiences such as cultural immersion, wellness retreats, and luxury activities like spa treatments, golfing, and culinary classes. All-inclusive luxury packages also include gourmet meals and beverages, which are often tailored to the specific preferences of the traveler.
Whether it's a family vacation package to a private villa in Bali with activities for kids, or a romantic honeymoon package to the Maldives with private overwater bungalows, there's a luxury travel package designed to cater to every traveler's specific needs and preferences.
Why Choose a Luxury Travel Package?
There are numerous benefits associated with choosing a luxury travel package. Firstly, they offer an all-in-one approach, combining flights, accommodations, and experiences in one booking. This saves travelers time and effort, making the booking process more convenient and efficient.
Secondly, luxury travel packages are cost-effective. While they may seem expensive at first glance, the value they provide – from premium accommodations and exclusive experiences to personalized services – often outweighs the cost.
Thirdly, these packages offer personalized and VIP experiences. Travelers can enjoy experiences tailored to their specific interests and preferences, ensuring an unforgettable vacation. Luxury travel companies often have partnerships with top hotels, resorts, and local businesses, providing travelers with exclusive benefits and VIP treatment.
Lastly, safety is a top priority in luxury travel packages. Comprehensive precautions are in place, from health and safety measures at accommodations and activities to secure transportation options.
In the world of travel, there's luxury and then there's luxury. If you seek opulence, exclusivity, and the highest level of service, a luxury travel package is your golden ticket to the travel experience of your dreams.
Top Destinations for Luxury Travel Packages
Luxury travel is not just about the journey, it's also about the destination. If you're planning your next lavish getaway, consider these top destinations that consistently rank high on the list of luxury-seeking travelers.
The Bahamas: A Tropical Paradise
The Bahamas is a world-renowned destination for high-end travelers. Its pristine beaches, clear turquoise waters, and luxury resorts offer a perfect blend of relaxation and adventure. Whether you're lounging on the beach, snorkeling among vibrant coral reefs, or dining at gourmet restaurants, the Bahamas promises a luxury experience like no other.
Norway: Luxury Amidst Natural Beauty
If snow-capped mountains, deep blue fjords, and the magical Northern Lights sound appealing, then Norway is your ideal luxury destination. Here, you can experience luxury amidst natural beauty, with high-end accommodations offering stunning views and expeditions that allow you to explore the country's breathtaking landscapes.
Italy: A Blend of Culture and Luxury
Italy offers a unique blend of rich history, art, gastronomy, and fashion, making it a haven for luxury travelers. Stay in opulent hotels in Rome, dine at Michelin-starred restaurants in Florence, shop at high-end boutiques in Milan, or sip fine wines in the rolling hills of Tuscany.
The Seychelles: An Exotic Luxury Destination
The Seychelles, an archipelago in the Indian Ocean, is a paradise for those seeking privacy and tranquility. Luxury resorts on secluded islands, crystal-clear waters for snorkeling and diving, and exotic wildlife make this destination a unique and memorable luxury experience.
Maldives: The Epitome of Luxury
The Maldives is synonymous with luxury travel. Here, you can stay in private overwater villas, enjoy personalized spa treatments, and dine under the stars. Its white-sand beaches and vibrant marine life make it a top destination for luxury travelers.
Argentina: Luxury in the Heart of South America
Argentina offers a diverse range of luxury experiences. From wine tasting in Mendoza to exploring the vibrant city life in Buenos Aires, to witnessing the awe-inspiring beauty of Patagonia, Argentina caters to the tastes of every luxury enthusiast.
Hawaii: Luxury in the Pacific
Hawaii offers a unique blend of natural beauty and luxury. Whether it's staying at a high-end resort on the beaches of Maui, exploring the rugged landscapes of the Big Island, or enjoying a private helicopter tour of the stunning Na Pali Coast, Hawaii offers luxury experiences that are as diverse as its landscapes.
France: The Classic Luxury Destination
France remains a classic destination for luxury travel. Paris, with its world-class shopping, dining, and museums, is a must-visit. But don't forget the French Riviera for a taste of the glamorous beach life, or the Champagne region for a luxury wine tour.
By choosing a luxury travel package to one of these destinations, you're ensuring an unforgettable experience that combines comfort, exclusivity, and the finest sights and experiences the world has to offer.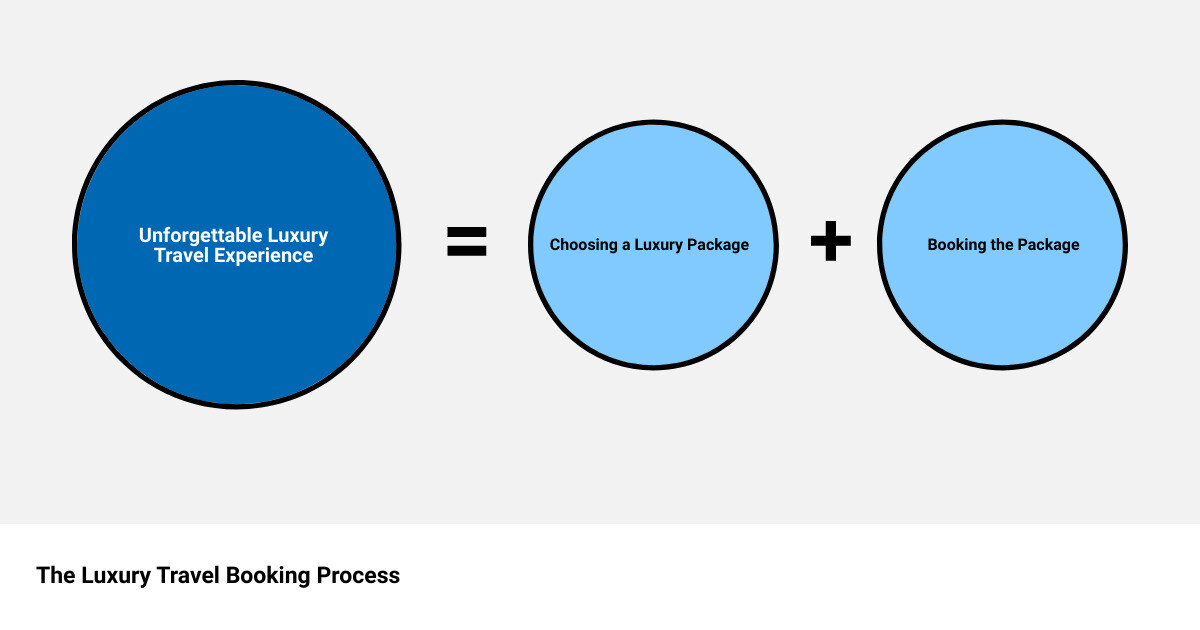 How to Book Luxury Travel Packages: A Comprehensive Guide
Embarking on a luxurious journey has never been easier. Here's a comprehensive guide on how to secure the most opulent travel experiences with luxury travel packages.
The Convenience of All-Inclusive Luxury Packages
An all-inclusive luxury package is the epitome of hassle-free travel. These packages provide you with everything you need, from flights and accommodations to meals and activities. It means you don't have to spend precious time planning and booking each element of your trip separately. Instead, you can focus on anticipating the luxurious experiences that await you. For instance, in an all-inclusive luxury safari in South African national parks, you get to witness the "Big Five" in style, indulge in gourmet meals, and engage with local communities with safety as a top priority.
The Cost-Effectiveness of Booking a Package
While luxury travel can indeed be expensive, booking a package can often be more cost-effective. When you book flights and hotels as a package, you can often secure better deals than if you were to book each part of your trip separately. Plus, travel companies have connections and bargaining power that individual travelers don't, meaning they can negotiate lower prices on everything from rooms to excursions. For instance, planning a ski vacation in the French Alps with childcare services and kid-friendly activities can be more economical when booked as a package.
The Personalized and VIP Experiences Offered by Luxury Travel Companies
Luxury travel packages are not just about comfort and convenience; they're about providing unique, personalized experiences that cater to your interests and desires. Luxury travel companies offer VIP experiences that you wouldn't be able to arrange on your own. These could range from private tours of the Vatican City to a private villa in Bali with activities for kids, to even enjoy unique Balinese cultural experiences and kid-friendly amenities.
Moreover, many luxury travel packages are customizable, meaning you can tailor them to your preferences. Whether you're interested in history, food, adventure, relaxation, or a bit of everything, you can find a luxury travel package that's perfect for you. Luxury-seeking travelers can discover the top Caribbean islands, from private yacht charters to fine dining experiences, all curated to offer unparalleled luxury and opulence.
In conclusion, booking luxury travel packages is a convenient, cost-effective, and personalized way to ensure you have the most luxurious vacation possible. With a variety of options available, all you need to do is choose the package that fits your interests and needs, and you're all set to embark on an unforgettable journey of luxury and opulence.
How to Enjoy Luxury Travel Without Breaking the Bank
Luxury travel doesn't have to leave your wallet empty. Here are some savvy strategies to experience the opulence without the extravagant price tag.
Flexibility with Travel Dates
Being flexible with your travel dates can significantly reduce the cost of your luxury vacation. Peak travel seasons often come with inflated prices. Traveling during off-peak times, however, can offer the same luxurious experience at a fraction of the cost.
Using Points and Rewards Programs
Most luxury travel enthusiasts are part of several points and rewards programs. These programs, offered by airlines, hotels, and credit cards, can help you accumulate points which can be redeemed for upgrades, free nights, and even free flights. This can significantly lower the cost of your luxury vacation.
Booking in Advance
Planning and booking your luxury vacation well in advance can lead to considerable savings. Many luxury hotels and resorts offer early-bird discounts, which can make a significant difference in the final cost of your vacation.
Considering Alternative Accommodations
Luxury doesn't exclusively mean five-star hotels. Consider luxury vacation rentals, private villas, or even castles available on platforms like Airbnb. These alternative accommodations can offer a unique and equally luxurious experience.
Researching Deals and Packages
It's worth spending some time researching deals and packages for your luxury vacation. Websites like Advise Honor offer tailored luxury travel packages that can provide significant cost savings compared to booking each aspect of your trip separately.
Taking Advantage of Complimentary Amenities
Many luxury hotels and resorts offer complimentary amenities that can enhance your experience. These can range from free spa treatments to complimentary culinary classes or cultural immersion activities. These complimentary extras can add value to your luxury vacation without adding to the cost.
Splurging on One Experience
Instead of trying to make every aspect of your vacation luxurious, consider splurging on one unforgettable experience. This could be a private tour, a gourmet meal at a top restaurant, or a once-in-a-lifetime activity. This strategy allows you to enjoy a taste of luxury without overspending.
Booking a Tour Package
Booking a tour package allows you to enjoy a luxury vacation without the hassle of planning every detail. These packages often include accommodation, meals, tours, and activities, making them a convenient and often more affordable way to enjoy a luxury vacation.
Remember, luxury travel is not just about opulent accommodations and high-end amenities. It's about the experiences that create lasting memories, and these can be enjoyed without breaking the bank. By following these tips, you can enjoy a luxury vacation that fits within your budget.
Conclusion: Embark on Your Luxury Travel Journey Today
After exploring the allure, benefits, and top destinations of luxury travel packages, as well as effective ways to enjoy luxury without breaking the bank, it's time to set your sights on your next exquisite vacation. Choosing the perfect luxury travel package can not only ensure a trip filled with opulent accommodations and high-end amenities but also provide personalized and unforgettable experiences.
Remember, luxury is not just about the material aspects; it's about the memories you create, the cultures you immerse yourself in, and the unique adventures you embark on. Whether you are dreaming of the tropical paradise of the Bahamas, the natural beauty of Norway, the cultural richness of Italy, or the exotic allure of the Seychelles, your ideal luxury destination awaits.
Booking an all-inclusive luxury package with a reputable company like Advise Honor ensures a seamless and personalized travel experience. They offer tailored luxury travel packages that cater to your individual preferences and interests, providing unparalleled lavish experiences from private tours and cruises to wellness retreats.
Embrace the convenience and cost-effectiveness of booking a package, and make the most of your travel experience by using points and rewards programs, booking in advance, and exploring alternative accommodations. Look for deals and packages, take advantage of complimentary amenities, and splurge on that one unique experience that will make your trip truly unforgettable.
In conclusion, luxury travel packages offer a world of possibilities for the discerning traveler. So, are you ready to experience the ultimate in luxury travel? Start planning your next luxury vacation today, and let the adventure begin. After all, you deserve nothing less than the best.